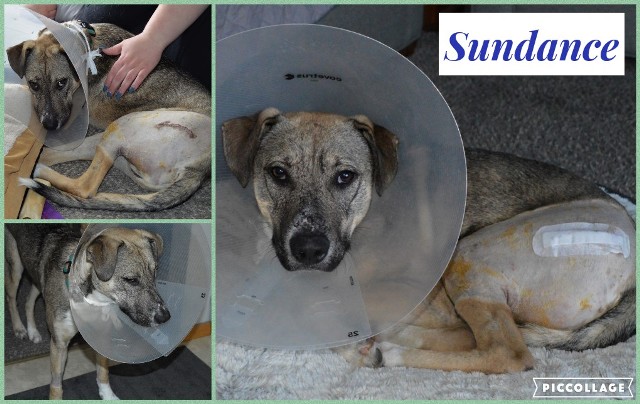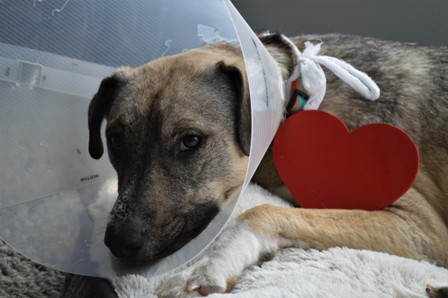 On February 25th Sundance went to WVRC in Grafton and had his Femoral Head and Neck Excision (Femoral Head Ostectomy - FHO) surgery. This is an extensive surgery. When the surgeon went in he saw that Sundance had to have more bone scraped and removed than originally thought in order to get the ball and socket joint to fit properly. This had to be done to give Sundance the best opportunity for living his life pain free. The staff took wonderful care of him and once again told us what a sweet and loving boy he is.
After an overnight stay, his incredible foster, Ashtyn, picked him up to give him some extra TLC and much needed rest. He needed that love and care because starting the next day his road to recovery began.
Sundance is currently spending a lot of time doing his exercises. When he's done Ashtyn has to ice him to help keep any swelling down. Right now he is doing so much work in at-home physical therapy. Soon he'll be able to start more intensive physical therapy which includes hydro therapy. Every day he gets stronger. When he first came home just sitting and laying down was hard but his foster parents helped him and now he can do it himself. Sundance is also learning to trust his left leg and hip again by putting more weight on it.

It sure has been a scary road for this brave boy but he tackles all of it with the sweetness and determination that is Sundance. He knows that he has not only Tailwaggers and his foster parents supporting him, but all of our TW911 family and friends, too. With all of you believing in Sundance, there isnít anything he canít do! He just might be the Usain Bolt of the dog world!